Can I Use A Shipping Container For Personal Storage?
Shipping Container / by Tami M.
You're not the only one out there thinking about this!
Let me ask you something when you think about using a shipping container what comes to mind first?
Using it to store lawn equipment, tools, or putting junk around the house in it for extra storage, right?
But have you ever thought about using it to store an automobile?
In this post, we'll go over the pros and cons of owning a shipping container for self-storage.
Next, I'll give you an example of what you can use it for on your property.
Last but not least, I'll tell you how you can customize your container to fit your needs.
Pros And Cons Of Owning A Shipping Container
The pros of owning a shipping container for personal storage are:
Portability
Easy to use – no assembly required
You can have it delivered directly to you
Use it immediately
They can be stacked on top of each other to save space
The cons of owning a shipping container are:
A permit may be needed depending on the jurisdiction where you live
Space on your property
Living in the city
Living in an homeowners association (HOA) community
Example Of What You Can Use A Shipping Container For
Did you know you can use your shipping container to store an automobile?
Let's use the example of storing a pickup truck inside a shipping container.
Good old Google says that the average size of a pickup truck is 19.8' long, 6.7' wide, and 6.3' tall.
Keep that in mind, you'll see where I'm going with this.
An average 20-foot Conex box is 20' long x 8' wide x 8' 6" high.
So as you can see, you can fit one truck inside a 20' shipping container.
But it will be a tight squeeze getting out of it once you drive your truck in it.
You'll have less than 2' wiggle room.
But don't throw in the towel yet!
So what's the solution?
Customize The Shipping Container To Fit Your Needs
Did you know that you can customize your shipping container to fit your needs?
First, buy a shipping container from Used Conex.
Next, fill out our modification form and tell us what you would like to add to your container.
For instance, a side door.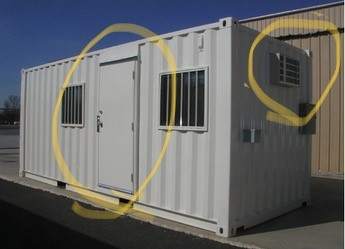 Yes, you can actually add a side door to your shipping container!
This way you will be able to exit easily after you park your pickup truck inside.
What a great idea!
Another recommendation would be to install a couple of vents too.
That will help relieve any gas fumes or heat buildup inside your Conex box.
Conclusion
Now you know all about the pros and cons of owning a Conex box for self-storage.
What you can use it for, as well as how you can customize it to fit your needs.
Give us a call at (855) 524-0888 or shoot us an email at info@usedconex.com.
We will be happy to answer any questions you have about our 20' or 40' shipping containers that we have for sale today!