Shipping Container Customization
From Custom Homes to Workspaces and Much More...
A modified shipping container can be adapted to a wide range of roles, from innovative shipping and storage to construction, custom homes, workspaces, retail spaces, conversions, pop-up shops — or whatever comes to mind. Storage containers may be one of the most versatile structures available in the building industry — offering a durable, weatherproof, and cost-effective alternative to building from scratch.
Used Conex specializes in storage container customization through expert planning, design, and modifications that turn containers into multi-functional and multi-purpose units for all your business and personal requirements. We offer a wide range of customization options with access to top-brand materials, equipment, and accessories that give you freedom from concept to impressive finish.
Used Conex is your one stop shop for every shipping container need. We offer modifications at affordable rates and we deliver nationwide! To make your dream affordable we also offer financing on all our modifications which helps with the cost!
Popular Shipping Container Customizations
Shipping Container Climate Control
Shipping Container Plumbing
Shipping Container Flooring
Shipping Container Windows
Storage Container Interior Finish
Storage Container Electrical
Shipping Container Lighting, Outlets, & Communication Lines
Storage Container Shelving
Shipping Container Painting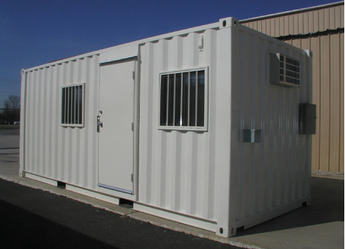 Like almost any structure, new and used shipping containers can be outfitted with modern technology, utilities and equipment to achieve a variety of functions.
There's very little you can't do with a shipping container, and the things you can are being enjoyed by businesses, organizations and people all over the world.
Shipping containers can allow you to scale business operations and worksite features at a low cost. They can serve as pop-up stores, mobile offices, and can even be converted into eco-friendly luxury homes, where their dimensions can be altered in ways that accommodate expansions and serve as build-outs to larger structures.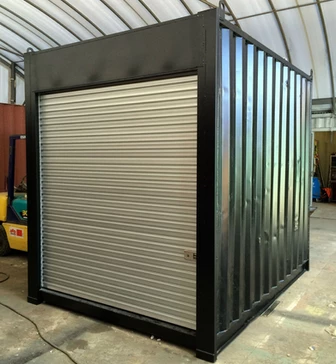 Creative Uses Of Customized Shipping Containers
Shipping Container Homes, Shipping Container Offices, Storage Container Studios, Pop-Up Stores and Cafes, Outdoor Bars, Mobile Office, Living Space, Worksite, Container Sheds, Worksite Kitchens, Lunchrooms, Emergency Shelters, First-Aid Rooms, Craft Rooms, Switch Rooms, Guest Houses, Off-Grid Living, and Shipping Container Bunkers.
If you buy your shipping container from Used Conex, we will be able to help you with all your modification needs. We can perform standard modifications such as adding a man door or adding windows or some vents to your conex. 
If you need anything more complex such as: Insulation, Flooring, Electrical & Lighting or Locking Mechanisms, we'd suggest you to consult with our experienced modification experts. 
To get a quote please contact our office at 1-800-230-7764.